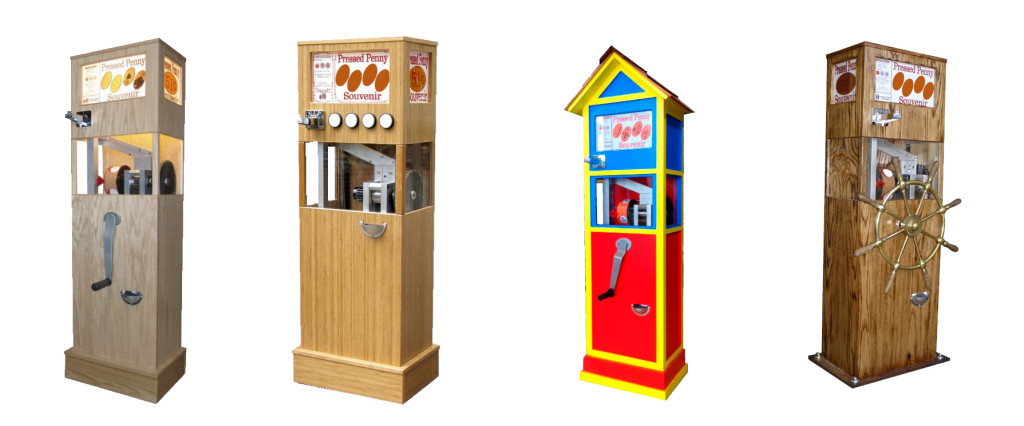 Pressed pennies appeal to all young and old while providing your customers with a permanent reminder of their experience at your site. Penny collectors share their collecting passion on social media with all their friends.
Guests frequently buy all four designs from the penny machines which is quadruple the original sale.  If you are looking to earn money per square foot a penny presser is earns more money for its footprint without needing to be stocked.  Our penny press machines are easy to operate and provide an unlimited income stream.
Included in our penny press machine:
Lifetime dies made from hardened steel
Custom signage displaying your penny artwork
A three year warranty (with purchase of machine)
Four custom engraved dies based on your choice of text and art
Three viewing windows for guests to watch the presser in action
Easily replace one die design at a time without replacing all four dies
Available options:
Lighting
Wheeled base
Installation and Setup
Either an Indoor or Outdoor Machine
Double-sided dies for double-sided pressed pennies
Custom themed cabinet or custom wrap on penny machine
A penny presser will offer your customers a low cost souvenir with high profits for your business. Contact us today to get started turning cents into dollars while promoting your location.
If the price of owning a presser machine is not an expense you can currently afford we can place a machine at your site on shared revenue basis. Inquire for details to see if you qualify for a shared revenue penny machine contract.